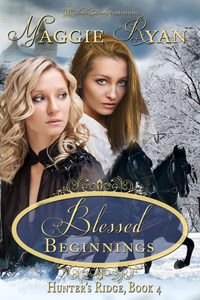 In the fourth book of the bestselling Hunter's Ridge series, we return to visit the people who have come together for the holidays. Lucy and Louisa continue to blossom under the stern but loving guidance of Lucas and Edward, every day being another step along the paths they have chosen.
But they are not the only ones making choices. Will Franny be able to set her fears of courtship aside and give Samuel Benedict a chance to win her heart? Or will that one impulsive, naughty decision she made ruin her chance of finding true love?
Meanwhile, not one but three men are vying to capture the heart of the vivacious youngest Lady Huntington. Ettie discovers that courtship is thrilling, yet she also learns that there is more than simply love to consider. She knows she needs to feel adored, but can any one of the three make her feel truly cherished?
What path do these two young women wish to take and who will take the journey at their sides? As shopping is done and gifts made by loving hands, the house is full of secrets. Will Lucy decide to share what she has learned? And what exactly is the secret that Louisa is holding close?
Days are filled with skating, sleigh rides and racing across the snow covered fields. Courting abounds, and preparations are made to attend the Grand Ball. Will love and trust be enough to hold the family together when a night of enchantment turns into a nightmare, threatening to tear the family apart?
_______________________________________________________
On the seventh day of Christmas…
Audra Deveraux dresses up as a princess to entertain children and visit nursing homes during the cold wintry months. She never expected to bump into a man who requests her at a social gathering of his close friends, but the amount of money for three hours of her time is more than she usually makes in a season! Despite her initial reservations, Audra finds herself accepting the offer from the very handsome stranger.
Clay Lawson is a self-made millionaire with lofty tastes to make up for his loneliness. He inherited a small, struggling winery after the tragic death of his young wife and turned it into a thriving business. He is captivated by Audra's beauty and grace when he sees her serving residents at a local nursing home. He approaches her and offers her one-thousand dollars to serve his friends refreshments at their annual winter party.
He neglects to mention that he and his friends believe in an old-fashioned mindset when it comes to their relationships and it startles Audra right out of character.
Audra is both shocked and intrigued by the women at the party who are taken in hand and in male dominated households. It leaves her wondering if Clay believes in the same code. She accepts his explanation, but is hesitant to ask the question burning in her mind.
Clay is open and willing to answer all of her questions, even the ones she can't seem to ask, but can they embark on the path towards a relationship or will Audra give him the cold shoulder and be on her way?
_______________________________________________________
Our weekly flashback sale continues…
$.99

(regularly priced at $3.99)

$2.99

(regularly priced at $4.99)

$2.99

(regularly priced at $4.99)

$2.99

(regularly priced at $4.99)
________________________________________________________