The Softer Side of Texas by Sai Marie Johnson
Since her brother's death, Ivanka Jessup, known to her family and friends as Ivy, has struggled to help her family keep their ranch running. Enduring harassment from a certain customer in the
bar she
works in, she works late hours, in addition to working on the ranch. Defending herself lands her without a job and she is rescued by a stranger, Aaron Kilpatrick, who just happens to be on his way to talk to Ivy's father about a job. He lands a job as a ranch hand, Ivy finds new work, and things seem to be on the upswing.
At just about the time Aaron and Ivy both realize they have feelings for each other, Ivy goes missing. The race is on to find her before it is too late, as foul play is suspected.
What Ivy endures at the hands of a madman is horrendous, but the thought of reuniting with Aaron keeps her going. Will she escape in time to find her happy ending?
Publisher's Note: This suspenseful story contains graphic sexual scenes. If that offends you, please do not purchase.
Stormy's Trouble: South Dakota Dreams, Book One
by Megan McCoy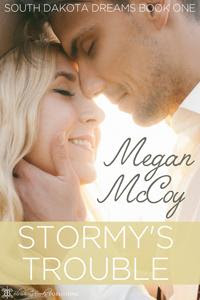 Stormy
Wagn
er loves her life in Blizzard, South Dakota. It's a small college town that has always been her home, where she owns a thriving pet supply store and her own house. If only she had the same success with her love life.
Life is stable, routine, and yes, maybe a little boring. Or it was, until a stalker begins to harass her, and her first love, Cade Cumberland, arrives back in town to care for his sick mother. Cade broke her heart when he left and now he seems to want to pick up where they left off a decade ago.
Can Stormy begin to trust Cade again? Can they pick up where they left off? Does she want to? Who is stalking her, and why? Since Cade has returned, the stalking has escalated – are the events connected?
Publisher's Note: This cozy mystery contains elements of domestic discipline and sexual scenes. If either of these themes bother you, please do not purchase.