New this evening…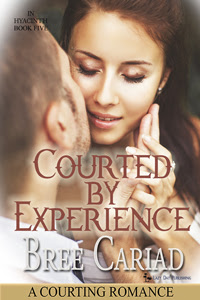 Celia Compton is thrilled to be back in Hyacinth where she lived until she was eight. A year of courting to meet her prince sounds lovely, especially when combined with loving discipline. Unfortunately, sometimes reality doesn't quite meet up with fantasy. The man she wants, Marcus Hotham, seems inclined not to court and yet the more she sees him, the more the rest of the guys just don't measure up. As Celia learns more about Hyacinth life and gains friendships for the first time in over a decade, it becomes more like home. When Marcus finally asks to court her, his four-year-old daughter Vanna in tow, she's thrilled. Everything is perfect, until her mother, who hates discipline and Hyacinth, comes to town and finds out about Marcus.
Now, with the possibility of being ripped from the arms of the man she loves, Celia finds herself floundering with how to explain things. When decisions are made and everything comes to light, she just might find that sometimes reality is so much better than fantasy.
About the series "In Hyacinth" by Bree Cariad: 
Hyacinth, Washington is all about old-fashioned values. In Hyacinth words like trust, honor, and kindness aren't just buzzwords. Hyacinth is a community built on tradition and trust, where men are the head of the home and women are encouraged to follow their lead.
Each story in the series is of a young woman (18-20) and her struggle to figure out who she is in this little town while at the same time going through Hyacinth's old-fashioned courting system. On their way to meet, get to know, and finally marry their princes, these heroines grow in ways they and their town never expected.
Chapter One is available for
FREE
 ________________________________________________________