New this evening…
Camille Statler would do anything for her sister and nephew, including going to a sex club with the intention of getting damning evidence to hold against her nephew's father to stop his custody suit. Despite her plan to concentrate only on her goal, she discovers two things the moment she steps into another world. First, much to her dismay, she discovers that Declan Whitmore, a man she met a few months earlier is not only a member… he owns The Warehouse. Second, though she's denied her needs for years after the devastating breakup of her marriage, her body turns traitor the moment Master Dec escorts her into the playroom.
Declan can't believe the woman he's been unable to put out of his mind just walked into The Warehouse. He has absolutely no problem welcoming her into his club, and teaching her to let herself go and find the bliss she so desperately craves. What he isn't pleased about is that, while she responds to all he does to her body, she refuses to share what he knows she is hiding from him.
Over the next few weeks, she succumbs to his dominance and responds to his controlling discipline but to his frustration, refuses to reveal anything personal about herself. The more time they spend together in and out of the club, the more Camille and Dec want each other. But soon Dec discovers her deceit and Camille is left to wonder if she waited too long to come clean with him. Can Dec see past her lack of trust to prove that he will be there for her forever? Or has her fear of repeating the past doomed her to a future lived alone?
This is the second book in the Virginia Blueblood series, where four friends have vowed to live their lives the way they want to, making their own way and their own rules. Follow Nate, Dec, Fin, and Wes as these men not only live every moment to its fullest, they find very strong, sassy, capable women who not only claim their hearts, but who also share their souls. Although this is a series, each book can also be enjoyed as a standalone.
___________________________________________________________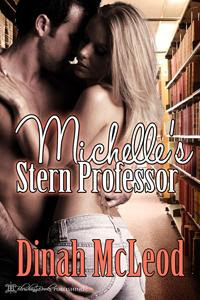 Michelle Johnson has been down on her luck for the past year and life only seems to be getting worse. First, she's diagnosed with cancer, then she loses her job, her apartment and her boyfriend of six years one after the other. Now she has to move back in with the father that abandoned her after her parents' divorce. Life just couldn't get any worse. That's what she thought, until the only teaching position she can find is Kindergarten – her least favorite! Worse yet, the principal is her old high school crush who doesn't hesitate to punish tardiness with a special kind of detention.
___________________________________________________________