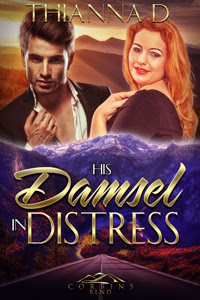 Corbin Nelson had stayed in New York with his non-spanko wife when all of his friends built and moved to Colorado. With his reason for staying in the city gone, and his trust ripped to shreds, he moved to Corbin's Bend to make a new start. His one rule: he would never give his heart away again. It only took a couple weeks for him to question that tenet when he rescued the same damsel in distress twice.
Zinnia Loraine bought into Corbin's Bend to hide: from the paparazzi, a scandal, and most of all from a deranged fan. She thought she could hide in her home and stay safe and secure. When her car broke down and she was rescued by Corbin, all thoughts of hiding fled as she was instantly attracted to the tall, middle-aged man. That he was an alpha male who spanked and loved curvy women just made it even better.
Unable to keep their hands off one another after their first date, they both were in this for fun… until her stalker found her and they both realized how much they cared for one another. With his damsel in distress once again, this time Corbin has to call on others to help him. Will he and Zinnia get their happily ever after? Or will his rescuing days be through? If the stalker has his way, their happiness is about to end.
About Corbin's Bend:
Welcome to Corbin's Bend, the first equity-cooperative housing development just for spankofiles. Thirty thousand acres in the mountains above Denver sits your dream come true. With 1000 home sites, several restaurants, a club house, theater, pool, and many other amenities, you will find yourself at home.
Corbin's Bend is the setting for a group of spanking romance novellas set in, where else? Corbin's Bend, Colorado. A fictitious housing cooperative, Corbin's Bend is unique in that everyone living there is into spanking, whether that be erotically or through domestic discipline. Just imagine, a place where nobody has to hide their particular spanking lifestyle.
While reading any series in order is nice, Corbin's Bend books can be read as stand-alones as well.
 ________________________________________________________
A carefree, playful young witch named Angelica, is returning to her cottage in the woods when she detects the presence of a powerful man. A Warrior of the First Order, Darius Dunworthy, has been sent by the Prince of Zanderone to find her. There is an evil menace terrifying the citizens, and the Prince believes the talented witch can help.
Angelica agrees, but finds herself intensely attracted to the strong, muscled warrior. She casts an erotic spell, but being a Warrior of the First Order, Darius is no ordinary man. He immediately recognizes the naughtiness behind his burning desire to ravage her. Witch or no witch, he decides such mischief cannot go unpunished.
"Some ground rules," he declared as he continued to spank her. "You will not attempt to cast any further spells on me. Do you promise?" "OW! Yes, I promise!"
Though shocked by the spanking and his list of rules, she is even more shocked that he doesn't fear her, but when she learns they will be guests of Princess Lizbett and Lord Larian she is determined to travel with him.
Lord Larian and Princess Lizbett join them in their hunt for the evil villain, and bring with them all the fiery passion, salacious sex and sizzling spanking they shared in The Warrior and the Petulant Princess, the first book of this scintillating series, Warriors After Dark.
 ________________________________________________________