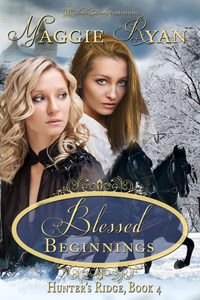 In the fourth book of the bestselling Hunter's Ridge series, we return to visit the people who have come together for the holidays. Lucy and Louisa continue to blossom under the stern but loving guidance of Lucas and Edward, every day being another step along the paths they have chosen.
But they are not the only ones making choices. Will Franny be able to set her fears of courtship aside and give Samuel Benedict a chance to win her heart? Or will that one impulsive, naughty decision she made ruin her chance of finding true love?
Meanwhile, not one but three men are vying to capture the heart of the vivacious youngest Lady Huntington. Ettie discovers that courtship is thrilling, yet she also learns that there is more than simply love to consider. She knows she needs to feel adored, but can any one of the three make her feel truly cherished?
What path do these two young women wish to take and who will take the journey at their sides? As shopping is done and gifts made by loving hands, the house is full of secrets. Will Lucy decide to share what she has learned? And what exactly is the secret that Louisa is holding close?
Days are filled with skating, sleigh rides and racing across the snow covered fields. Courting abounds, and preparations are made to attend the Grand Ball. Will love and trust be enough to hold the family together when a night of enchantment turns into a nightmare, threatening to tear the family apart?
_______________________________________________________
Walking into the nursery, Ettie saw the twins already standing in opposite corners, both pushing their drawers to their ankles. "What are you doing!"
"What does it look like?" Lucy said. "Getting ready to get my bottom spanked because I was silly enough to try to keep you out of trouble."
"I didn't mean for this to happen," Ettie said, "and now Dr. Fielding thinks that I'm some horrible naughty girl."
"That's what you are worried about? What he thinks about you? And besides, you are a naughty girl!" Lucy snapped. "Oh, and by the way, if Nanny Molly comes in here and finds you out of the corner or talking, she'll add extras."
"Extras?"
Lucy shook her head and turned to the corner, lifting her dress and petticoats to her waist. She ignored the gasp she heard from Ettie but closed her eyes. She'd forgotten that she still had faint wheals across her flanks. Well, it was far too late to worry about that now. She opened her eyes and saw that Louisa was already in position, and prayed that Ettie would realize that this would be a perfect opportunity to obey Nanny Molly's instructions.
When the door opened, Edward, Lucas and Molly saw that two corners were filled with two sets of quivering bottom cheeks exposed as drawers were pooled at ankles and dresses held at waists. In a third, Ettie stood, her hands at her sides. She was the only one to turn around at the door's opening.
"Pray tell why you have not prepared yourself properly, Henrietta. Is there some reason you feel it unnecessary to lift your dress and lower your drawers, young lady?" Molly said.
Ettie's eyes darted to the twins and then to the normally sweet woman standing before her, toes tapping against the floor, arms crossed over her chest. "Um, you never said that we were to, um…. I guess that Lucy and Louisa often… um, I mean, you just said stand in the corner."
Molly forced herself to remain calm. After a deep breath, she spoke. "Pardon me. It was my mistake in not making my orders clear. Turn around, Henrietta, because I did specifically state I wished your nose to be in the corner. Place it there immediately," she said firmly, and though Ettie gave her brother a pleading look, she reluctantly obeyed.