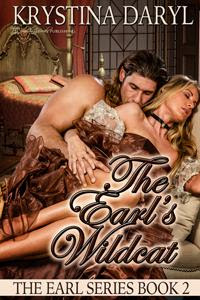 Born out of wedlock in the nineteenth century, Lydia Parker has nothing to rely upon but her own fiery will. In order to earn enough money to make a living, she creates two identities for herself: 'Lloyd', a young skinny man who visits different peasant establishments to hone 'his' gambling skills; and 'Wildcat', a seductive vixen and call girl who uses her charms to gain access to the gambling tables of wealthy men.
Lydia dares to push boundaries and take risks no other woman usually would in order to survive. The last experience she had with any sort of love was as a child. But when her half-sister, Lanie, is taken away, she vows never to trust or love again… until a noble earl enters her life. One she foolishly falls in love with.
When faced with the discovery of two young siblings she's never met, Lydia has a hard decision to make. Can she force herself to break her own vow not to tarry with married men in order to save their lives? Will her false identities keep her safe as she enters the home of a woman with the intention of breaking apart her marriage? What happens when the very man who has stolen her heart turns out to be the same man whose life she has to ruin to save her innocent siblings?
Earl Nicolas Townson has met and loved many women in his life, but none were ever as intriguing as the one wearing a mask who calls herself, 'Wildcat'. Their exchange across the poker table ended with a passionate dalliance in a dim hallway. Thoughts of the alluring woman refuse to leave his mind, and his best friend's teasing are not the least bit amusing. He has never had difficulty in charming a woman into his bed. But, while he enjoys a tigress in his bed, he has no tolerance for manipulative, scheming women. When he discovers Lydia's duplicity, he knows he has to make a choice. Will he toss her aside, or make it his life's quest to tame the wildcat and make the little feline purr… even if he has to spank her bottom raw first?
___________________________________________________________
What did Vince expect when he went chasing after a red-head? A calm, quiet life? If he did, he was sadly disappointed. What started out as a simple favor for an old friend wound up landing him and his brother up to their eyebrows in madcap mayhem. What's a cowboy to do with such a beautiful trouble-maker when he catches her but turn her over his knee for a good old- fashioned spanking?
Madcap mayhem ensue wherever Pinkie goes, but at the end of the day, Vince knows that he can't live without his skittle-pip. Now, if he can just convince her.
___________________________________________________________
When Jerry Douglas asks Elly Benson to marry him, he wants their ceremony to be as close to Valentine's Day as possible. Though Elly tearfully accepts Jerry's proposal without hesitation, as she readies herself for her second wedding, the doubts and misgivings of any new bride-to-be are exacerbated by the abuse she suffered during her first marriage. When Elly recalls how quickly her uncertain stomach jitters grew into tight knots of pain on her wedding day, she also remembers how and why she'd fallen in love with and married Arthur, her first husband. A mistake she regrets more and more with each passing hour.
Though she's lived with Jerry for four months now, and been subject to his discipline more than once, her first husband had been kind and careful with her, too, in the beginning. At least until she vowed to love, honor and obey him. And their move to Corbin's Bend turned him from the strict, but caring husband she thought she'd married into a monster she no longer recognized.
___________________________________________________________
And don't forget our weekly "Flashback Sale"…
Prices good till

Saturday, Feb. 6th