When Bess Leighton lands the part of the Sugarplum Fairy in an original choreography by the renowned Soren Falk, she's overjoyed at what it could mean for her career. The stern, demanding Soren has had a legendary career, and dancing for him is the greatest honor in the ballet company. Soren demands that Bess spend three weeks in November training with him at his chalet in Vermont before rehearsals begin, and she readily agrees.
But on her first night in Vermont, Bess learns that Soren has a stern hand with his dancers, and is all too happy to put her over his knee for a hard, bare-bottomed spanking. When he discovers her deep erotic pleasure in being mastered, the aristocratic Soren decides to train her into the perfect, proper lady with strictly-enforced rules and etiquette and plenty of old-fashioned discipline. But neither expects the deep emotional connection that blossoms between them as the snow flies outside.
When they return to Seattle to begin rehearsals, Soren wants to keep their relationship a secret, and Bess can't shake the powerful need she has to be his in all ways. She performs her role in the ballet brilliantly, but all the time she's becoming more and more lost and unhappy in her desire for Soren. Can Soren accept the gift she's offering, or will their new love be as fleeting as the sparkle and shine of a Christmas ballet?
_______________________________________________________
When ranchers start selling out in the Arizona territories, Wells Fargo assigns Thorn to figure out who is buying up the land and why. Thorn is used to tough, dangerous assignments, but when he finds out the childhood sweetheart he left behind is coming to him, he just may find himself with the toughest assignment of his career!
Clary Worthington has a restless spirit to match Thorn's own and she isn't going to wait a minute longer for the handsome cowboy to come back for her. Once a sweet and biddable child, Clary is now a beautiful and fiery young woman, determined to find a way to stay in the west near Thorn, even if he does spank the living daylights out of her for defying him!
_______________________________________________________
On the sixth day of Christmas…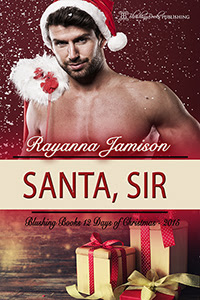 The beginning of Becca and Mases's marriage was a time fraught with grief and unfortunate circumstances, creating a distance between them that was difficult to overcome.
Becca knew she should be focused on bridging the gap between them, but ever since she witnessed her sister in law being spanked by her husband, she can't seem to get the idea of Mase spanking her out of her head.
Will Becca's new obsession drive them farther apart or be the catalyst that brings them back together?
_______________________________________________________
Our weekly flashback sale continues…