It's been six months since her vanilla marriage ended in divorce, and Sylvia is craving some fun and excitement – not to mention kink. So when her friend Rosa tells her about a slave auction being held at her workplace, the Castle, Sylvia throws caution to the wind and signs herself up to fly all the way to America to be sold off to the highest bidder under the nickname Silver. Gorgeous twin Castle Masters, Travis and Trevor, can have any girl they choose – and frequently do. The only downside to topping female guests, however, is the fact that there's never enough time to build trust. So when Trevor hears about the auction, he decides it's time to be selfish, and he and his brother set about looking for a plaything they can do whatever they want with – a girl with as few limits as possible.
When Silver and the twins meet, the chemistry is instantaneous and palpable. But all too soon, something more begins to develop between the three. What should have been a few days of physical excitement turns into an emotional roller coaster – not only for Silver, but for Travis and Trevor as well.
Overwhelmed by the events at the BDSM resort – and her feelings – Silver tries to get to grips with her past, as well as the fact that she's rapidly falling in love with the two biggest playboys in Ohio.
In turn, Travis and Trevor are smitten by the mysterious girl from Australia, but whenever they try to get closer emotionally, she clams up. Can the twins make her see what she means to them before it's too late, and Silver gets back on the plane home?
 ________________________________________________________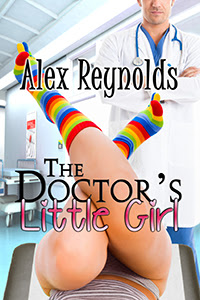 'After losing yet another job, twenty-year-old Molly Parker wonders whether failure and sadness are her lot in life. Her last hope lies in Dr. Andrew Harrington, the handsome physician who witnessed a courageous act of kindness on her part and then offered her a job. But Molly can't help worrying that she'll lose this job too, just like all the others…
From the moment he set eyes on her, Andrew knew there was something special about Molly – special enough for him to bring her halfway across the country and give her a job at his practice and a room in his home – but it soon becomes clear that she will be a handful. When it seems that her poor attitude at work will leave him no choice but to fire her, he makes a bold decision and gives Molly exactly what she needs: a long, hard, bare-bottom spanking.
Nobody has ever cared enough about Molly to correct her before, let alone take her in hand so completely, and soon enough she is cuddling in Andrew's lap and calling him daddy. It will take more than one trip over Andrew's knee to cure her bad habits, though, and discipline at a doctor's office can leave a naughty little girl blushing bright red before her real punishment even begins. But can Andrew really give Molly what she has always longed for, or will he eventually give up on her like everyone else?
 ___________________________________________________