New this afternoon: The latest from Corbin's Bend…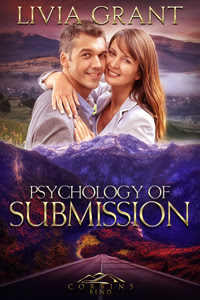 Traci Jackson has been a therapist in Corbin's Bend for several years. She's helped many residents navigate their own D/s and DD relationships, but she hasn't found her own HoH. Through her patients, she's been researching and writing about the dynamics of dominance and submission in relationships for years. She loves her field, but she hates attending professional conventions where she's treated like her specialty isn't valid.
Sean Campbell is juggling raising his teenage daughter alone in Chicago while running a large convention hotel. When the annual psychologist convention comes to town, he literally bumps into the most beautiful and intelligent woman he's met in a long time. He gets the surprise of his life when he finds out her specialty is D/s with an emphasis on corporal punishment.
They may find sparks from the minute they meet, but Traci and Sean have more than just the long distance between Chicago and Corbin's Bend separating them. Sean has never heard of domestic discipline before. Will Traci pack up and leave Corbin's Bend to be with the man she's falling in love with, even if he can never be her true HoH?
About Corbin's Bend: 
Welcome to Corbin's Bend, the first equity-cooperative housing development just for spankofiles. Thirty thousand acres in the mountains above Denver sits your dream come true. With 1000 home sites, several restaurants, a club house, theater, pool, and many other amenities, you will find yourself at home.
Corbin's Bend is the setting for a group of spanking romance novellas set in, where else? Corbin's Bend, Colorado. A fictitious housing cooperative, Corbin's Bend is unique in that everyone living there is into spanking, whether that be erotically or through domestic discipline. Just imagine, a place where nobody has to hide their particular spanking lifestyle.
While reading any series in order is nice, Corbin's Bend books can be read as stand-alones as well.
Chapter One is available for
FREE
 ________________________________________________________