Tomorrow's
FREE Book: (Check Back After
Noon
)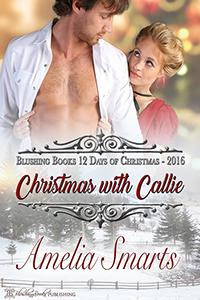 Sassy, fast-talking Callie has recently married stern, no-nonsense stagecoach driver Jude Johnson. As a poor orphan, Callie always got by using tall tales to sound impressive. Now that she's married, Callie feels secure and loved, so she isn't as inclined to brag and lie; however, old habits die hard, and she finds herself unable to admit to her new husband that she can't cook.Callie thinks she's pulling a fast one on Jude. Every day she walks the mile to town, purchases two dinners to go from the restaurant, and returns home to set the table and lay out the meal before Jude returns home. Every evening as they dine together, she explains in detail how she has cooked each item on the plate, and everything she describes about how she cooked the meal is wrong (incorrect temperature, time, ingredients).
Though Jude is mildly displeased by Callie's ongoing lies about her cooking skills, he is more amused than anything else and secretly finds it endearing. Jude becomes less amused, however, when he returns from the range one day to learn that Callie has invited practically the whole town to Christmas dinner. His plucky young bride has finally crossed the line, and Jude decides she needs a lesson over his knee for that stunt.
Callie promises to stop lying to Jude, but Christmas dinner is only a day away and it's too late to uninvite all of their guests. Jude resolves to help Callie prepare the dinner. Will the two of them be able to pull together an edible meal? That remains to be seen, but their efforts lead to some entertaining mishaps and arguments in the kitchen, which will guarantee that more than one rump is well-roasted by the time their guests arrive.
*** Available for FREE as part of our "12 Days of Christmas" holiday promo.   Don't delay…this title is only available for 24 hrs! ***