Sadie and Simon are ready to exchange vows. Finally. Almost. But Sadie wants to start fresh, in a place free of ghosts from Simon's past. Finding the perfect house is easy enough. Once it's theirs, she promises she'll plan the wedding of their dreams.
Getting their hands on the title proves a bit more… complicated. An ex-girlfriend. An unpaid tax lien. A winter storm. Now Simon's the one who seems to have cold feet. Suddenly his old life of international travel, nomadic and carefree, is calling again.
For her part, Sadie wants to carve out a life, a daily routine that includes resuming volunteer work at the homeless shelter. She promises to be careful while frequenting such a rough neighborhood, but Sadie being Sadie-well, she can be a bit headstrong. Her misadventures put her in danger of being over Simon's knee even more than usual, especially when outside perils lead to an almost tragic loss.
Simon says that it's time for Sadie to submit and obey. Sadie says she's ready and willing, but they both wonder: will she ever really be able?
Publisher's Note: While this is the third in the Simon In Charge series, it can be read as a standalone. This love story includes domestic discipline, explicit sex scenes and more. If such material offends you, please do not buy this book.
Christmas with Callie by Amelia Smarts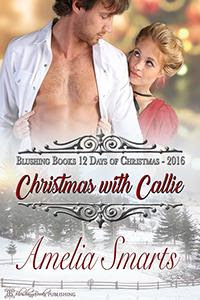 Growing up a poor orphan without family or connections, Callie has always relied on telling tall tales to sound impressive and get herself out of scrapes. Now that she's married to Jude, a loving but stern husband, she feels more secure and less inclined to brag and lie. Old habits die hard, however, and she finds herself unwilling to admit to her new husband that she can't cook, even as Christmas approaches and she has invited people to join them for supper at their ranch.
Callie thinks she's pulling a fast one on Jude. Every day she walks the mile to town, purchases two dinners to go from the restaurant, and returns home to lay out the meal before Jude returns home from working on the range. Every evening as they dine together, she explains in detail how she has cooked each item on the plate.
Jude is aware of his wife's deception and hopes she'll come clean instead of requiring discipline to correct her behavior but, after weeks of the cooking ruse, he determines that enough is enough and his bride is due a sound spanking. Just when it seems that all is about to be set straight, an enemy from their journey west makes a second appearance in their lives, accusing Callie of theft. She vehemently denies her involvement. Will Jude be able to protect Callie from getting in trouble with the law, considering the mounting evidence against her? And will Callie learn how to cook in time to make Christmas with Callie a success?
*** Available for FREE as part of our "12 Days of Christmas" holiday promo.   Don't delay…this title is only available for 24 hrs! ***
Tomorrow's
FREE Book: (Check Back After
Noon
)
His Christmas Brat by Kelly Dawson
Virginia Stiles is the spoilt, only daughter of veteran movie producer Tom Stiles. She is shocked to be informed that she is to be uprooted from the Hollywood lifestyle she knows and loves, to be sent to New Zealand to spend Christmas with the grandparents she hasn't seen in years. Despite being born in New Zealand, Virginia has spent the past decade in Hollywood with her famous father – ever since her mother died. The last place she wants to visit is the country that holds such sad memories for her. Besides, she's been invited to the biggest social event of the year – the Hollywood Hills Bachelor party – the party that anyone who is anyone will be attending. Even worse, her father wants her to experience a laid-back Kiwi Christmas, and to curb her shopping habit, is introducing a spending limit on her credit cards. Virginia uses all the tactics she knows to change his mind, but her father refuses to listen to her pleas and isn't swayed by her tears. Instead, he brings in Shane.
Shane is a six foot three inch, broad-shouldered solid ball of muscle, and he is the man who will be accompanying her to the country of her birth as her chaperone. A professional bodyguard trained in close combat with a black belt in multiple martial arts, Shane is more than capable of keeping his charge safe. But will he be able to tame his spoilt, bratty charge, enforce the spending limit her father has set, and prevent her from ruining everybody's Christmas?
*** Available for FREE as part of our "12 Days of Christmas" holiday promo.   Don't delay…this title is only available for 24 hrs! ***